Experiencing a pregnancy is a transforming, powerful event in a woman's life. It can be a rewarding experience and nothing is as touching as holding your newborn baby for the first time. There has always been a cultural fascination with a woman's body both pre and post baby and women have been turning to cosmetic surgery, especially mommy makeover, to regain both their body and their confidence.
There is no doubt that pregnancy can be tough on a woman's body. From rapid weight gain to subsequent loss, your body does not simply bounce back to normal after giving birth. Stretching, and laxity in the skin and muscles contribute to changes in the breasts, abdomen, and thighs that stay with your body long after giving birth. Often women find no amount of exercise such as spinning, ballet barre or Pilates can address the entire problem.
In modern cosmetic surgery technologies, procedures and treatments are making it faster and easier to look and feel our best at the various stages in our lives. Also, women today feel more attuned to taking care of themselves from the perspective of mind, body and soul. So how does a doctor incorporate those values and take a more holistic approach to plastic surgery with the women undergoing these procedures?
A plastic surgeon with a holistic approach to a mommy makeover uses complementary natural techniques to enhance post-surgical healing. My experience over the years is that holistic and integrative preparation prior to surgery usually results in a quicker, less painful healing process. In the case of a mommy makeover, the cosmetic surgeon typically performs a series of body contouring procedures.
These are performed in one operation, commonly including: abdominoplasty (tummy tuck), breast augmentation, and/or breast lift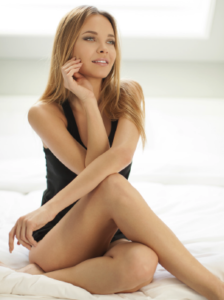 surgery, liposuction and/ or labiaplasty. Because the mommy makeover encompasses many aspects of renewal pre and post procedure preparation may include working with a nutritionist for weight loss and overall health improvement, acupuncture treatments for improved pain management, meditation, and yoga for stress reduction, homeopathic medications before surgery to improve wound healing and organic body skincare.
A surgeon's goal is to produce natural-looking results that will help return your body to a shape that closely resembles your pre-pregnancy physique, or better, and to experience a healthy form of renewal. Getting the mind and the body working together pre and post surgery can be a transformative and last- ing experience for many women.
Dr. Tamy Faierman is a plastic surgeon who specializes in the Mommy Makeover and takes a unique holistic approach to medicine, health and healing with her patients. Dr. Faierman's office is located at 17130 Royal Palm Blvd, Suite 1, in the Windmill Professional Campus. For more information, please call her office at 954.322.2742 or visit her site at www.reshapeyourimage.com.