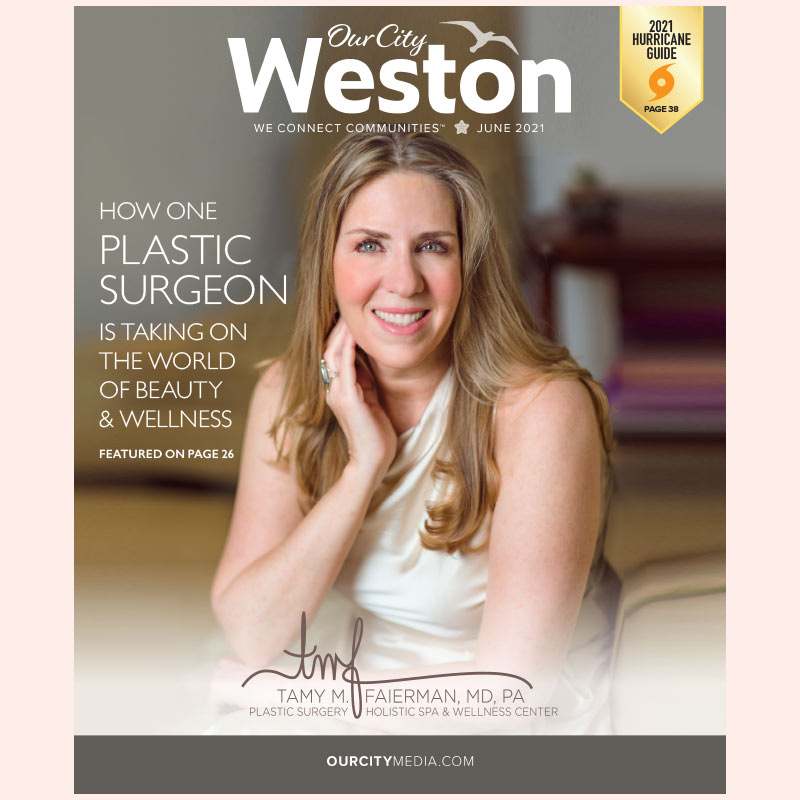 Board-certified and in practice for over 27 years, Tamy M. Faierman, M.D., is leading the conversation on redefining beauty and conscious aging as South Florida's premier "holistic" plastic surgeon. Integrating cutting edge treatments with holistic techniques and healing modalities both pre- and post-surgery, Dr. Faierman works to take care of the individual in a comprehensive way, taking a personalized and integrated approach to Plastic and Reconstructive Surgery that's focused on achieving both inner and outer beauty.

Born in Israel to parents from South America, raised in New York City, and fluent in English, Spanish, Hebrew and French, Dr. Faierman's multicultural journey has helped shape both her practice and wellness philosophy. In many ways, Dr. Faierman's approach to Plastic and Reconstructive Surgery has been a reflection of her global mindset, allowing her to integrate traditional healing techniques from around the world with her extensive medical training and expertise.
As a natural extension of this vision, Dr. Faierman founded the Tamy M. Faierman Holistic Spa and Wellness Center in Weston, Florida. The spa and wellness center fosters personal transformation— combining the best of Eastern and Western medicine to advance self-discovery and embrace total body well-being.
Dr. Faierman received her Bachelor of Science magna cum laude from the State University of New York at Albany. She went on to earn a medical degree from The Mount Sinai School of Medicine in New York, NY, completing her training in General Surgery, with a fellowship in Microsurgery and a residency in Plastic and Reconstructive Surgeryat New York's prestigious
Montefiore Medical Center, University Hospital for the Albert Einstein College of Medicine. She is a Diplomate of the American Board of Plastic Surgery, and a member of the American Society of Plastic Surgery, the Broward County Medical Association, the Florida Medical Association, and the Florida Society of Plastic Surgery.
As a thought leader and trailblazer in the conscious aging movement, Dr. Faierman regularly writes, lectures, and hosts events on topics related to redefining beauty and wellness from her unique vantage point as a holistically minded plastic surgeon. In addition to her busy professional life, Dr. Faierman enjoys spending time with her five children, and participating in local volunteer and philanthropic work that aims to support growing and strengthening a healthy and well community for all.
She has published several articles that can found on her website.
---
Publications
"Effects of Pulsed Magnetic Energy on a Microsurgically Transferred Vessel." Roland, MD, Ferder, MS, Kothuru, MD, Faierman, MD, Strauch, MD. Plastic and Reconstructive Surgery. 105: 1371, 2000.
"Accelerated Nerve Regeneration Using Cultured Schwann Cells in a Rabbit Autogenous Venous Nerve Conduit Model." Faierman, MD, Ferder, MS, Weinstein, MD, Strauch, MD. (Manuscript in progress.)
Presentations
"Accelerated Nerve Regeneration Using Cultured Schwann Cells in a Rabbit Autogenous Venous Nerve Conduit Model."