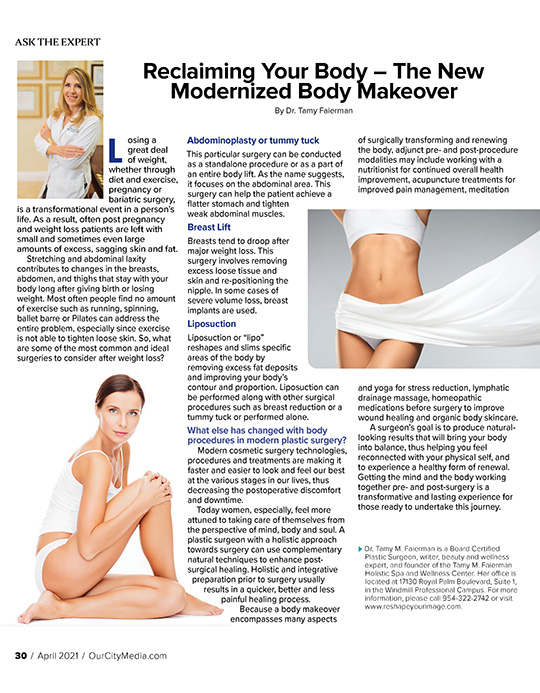 Losing a great deal of weight, whether through diet and exercise, pregnancy or bariatric surgery, is a transformational event in a person's life. As a result, often post pregnancy and weight loss patients are left with small and sometimes even large amounts of excess, sagging skin and fat.
Stretching and abdominal laxity contributes to changes in the breasts, abdomen, and thighs that stay with your body long after giving birth or losing weight. Most often people find no amount of exercise such as running, spinning, ballet barre or Pilates can address the entire problem, especially since exercise is not able to tighten loose skin. So, what are some of the most common and ideal surgeries to consider after weight loss?
Abdominoplasty or tummy tuck
This particular surgery can be conducted as a standalone procedure or as a part of an entire body lift. As the name suggests, it focuses on the abdominal area. This surgery can help the patient achieve a flatter stomach and tighten weak abdominal muscles.
Breast Lift
Breasts tend to droop after major weight loss. This surgery involves removing excess loose tissue and skin and re-positioning the nipple. In some cases of severe volume loss, breast implants are used.
Liposuction
Liposuction or "lipo" reshapes and slims specific areas of the body by removing excess fat deposits and improving your body's contour and proportion. Liposuction can be performed along with other surgical procedures such as breast reduction or a tummy tuck or performed alone.
What else has changed with body procedures in modern plastic surgery?
Modern cosmetic surgery technologies, procedures and treatments are making it faster and easier to look and feel our best at the various stages in our lives, thus decreasing the postoperative discomfort and downtime.
Today women, especially, feel more attuned to taking care of themselves from the perspective of mind, body and soul.
A plastic surgeon with a holistic approach towards surgery can use complementary natural techniques to enhance post-surgical healing. Holistic and integrative preparation prior to surgery usually results in a quicker, better and less painful healing process.
Because a body makeover encompasses many aspects of surgically transforming and renewing the body, adjunct pre- and post-procedure modalities may include working with a nutritionist for continued overall health improvement, acupuncture treatments for improved pain management, meditation and yoga for stress reduction, lymphatic drainage massage, homeopathic medications before surgery to improve wound healing and organic body skincare.
A surgeon's goal is to produce natural-looking results that will bring your body into balance, thus helping you feel reconnected with your physical self, and to experience a healthy form of renewal. Getting the mind and the body working together pre- and post-surgery is a transformative and lasting experience for those ready to undertake this journey..
To learn more, visit reshapeyourimage.com or call 954-322-2742
 Dr. Tamy M. Faierman is a Board Certified Plastic Surgeon, writer, beauty and wellness expert, and founder of the Tamy M. Faierman Holistic Spa and Wellness Center. Her office is located at 17130 Royal Palm Boulevard, Suite 1, in the Windmill Professional Campus. 
Originally published in OurCityMedia April 2021