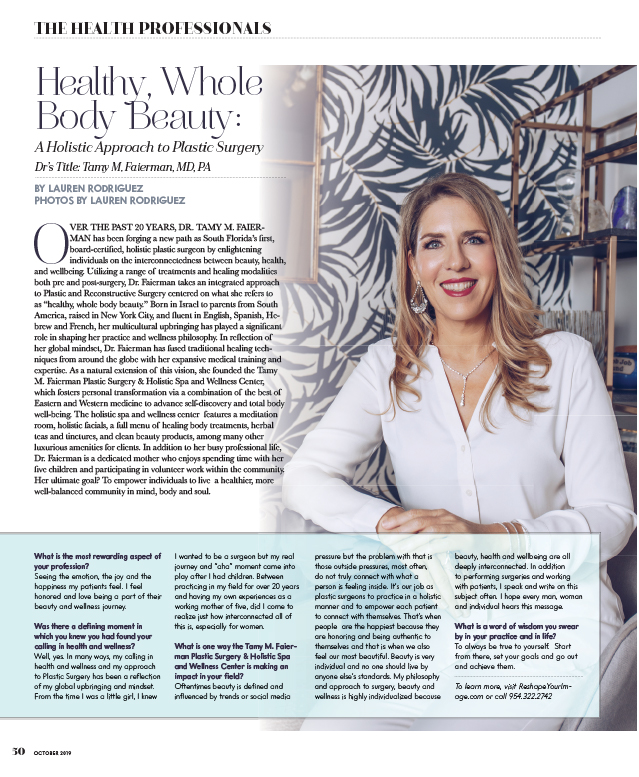 OVER THE PAST 20 YEARS, DR. TAMY M. FAIERMAN has been forging a new path as South Florida's first,board-certified, holistic plastic surgeon by enlightening individuals on the interconnectedness between beauty, health, and wellbeing. Utilizing a range of treatments and healing modalities both pre and post-surgery, Dr. Faierman takes an integrated approach to Plastic and Reconstructive Surgery centered on what she refers to as "healthy, whole body beauty."
Born in Israel to parents from South America, raised in New York City, and fluent in English, Spanish, Hebrew and French, her multicultural upbringing has played a significant role in shaping her practice and wellness philosophy. In reflection of her global mindset, Dr. Faierman has fused traditional healing techniques from around the globe with her expansive medical training and expertise. As a natural extension of this vision, she founded the Tamy M. Faierman Plastic Surgery & Holistic Spa and Wellness Center, which fosters personal transformation via a combination of the best of Eastern and Western medicine to advance self-discovery and total body well-being.
The holistic spa and wellness center features a meditation room, holistic facials, a full menu of healing body treatments, herbal teas and tinctures, and clean beauty products, among many other luxurious amenities for clients. In addition to her busy professional life, Dr. Faierman is a dedicated mother who enjoys spending time with her five children and participating in volunteer work within the community. Her ultimate goal? To empower individuals to live a healthier, more well-balanced community in mind, body and soul.
What is the most rewarding aspect of your profession?
Seeing the emotion, the joy and the happiness my patients feel. I feel honored and love being a part of their beauty and wellness journey.
Was there a defining moment in which you knew you had found your calling in health and wellness?
Well, yes. In many ways, my calling in health and wellness and my approach to Plastic Surgery has been a reflection of my global upbringing and mindset. From the time I was a little girl, I knew I wanted to be a surgeon but my real journey and "aha" moment came into play after I had children. Between practicing in my field for over 20 years and having my own experiences as a working mother of five, did I come to realize just how interconnected all of this is, especially for women.
What is one way the Tamy M. Faierman Plastic Surgery & Holistic Spa and Wellness Center is making an impact in your field?
Often times beauty is defined and influenced by trends or social media pressure but the problem with that is those outside pressures, most often, do not truly connect with what a person is feeling inside. It's our job as plastic surgeons to practice in a holistic manner and to empower each patient to connect with themselves. That's when people are the happiest because they are honoring and being authentic to themselves and that is when we also feel our most beautiful. Beauty is very individual and no one should live by anyone else's standards. My philosophy and approach to surgery, beauty and wellness is highly individualized because beauty, health and wellbeing are all deeply interconnected. In addition to performing surgeries and working with patients, I speak and write on this subject often. I hope every man, woman and individual hears this message.
What is a word of wisdom you swear by in your practice and in life?
To always be true to yourself. Start from there, set your goals and go out and achieve them.
To learn more, visit reshapeyourimage.com or call 954-322-2742
Originally published in InWeston Magazine, October 2019