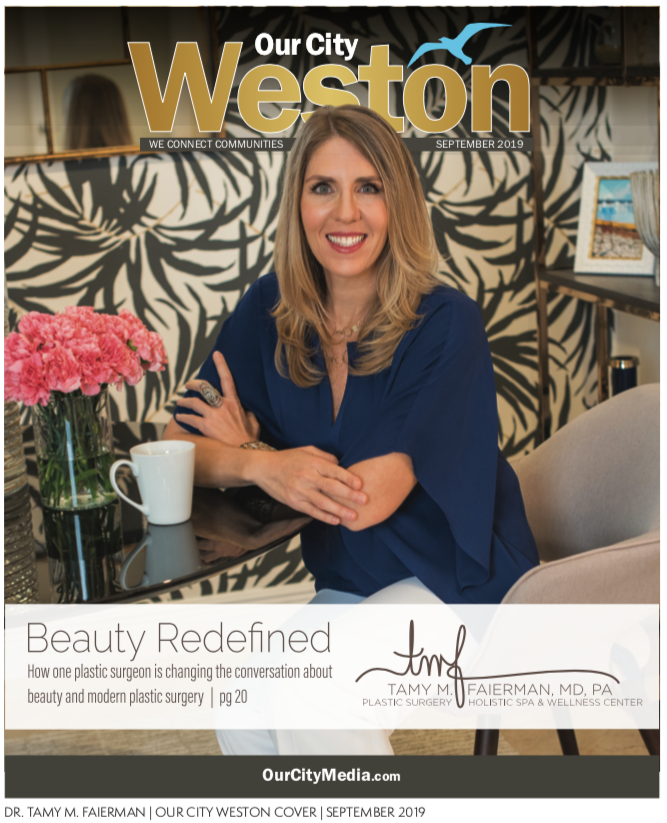 The Changing Face Of Beauty & Wellness 
Originally published Our City Weston Magazine | September 2019


As a beauty and wellness expert, board-certified plastic surgeon, and founder of the Tamy M. Faierman Holistic Spa and Wellness Center, Dr. Tamy Faierman has been working for nearly two decades to create a new methodology for self-care in the modern age. Combining the most cutting-edge procedures from Western medicine with time-honored traditional practices from around the world, she offers patients an integrative approach to beauty and wellness that supports their changing needs through the different stages of their lives. Dr. Faierman shares more about her unique approach and practice.
How would you describe your practice philosophy? 
I believe beauty and wellness are interconnected, meaning when we align the inner and outer body by taking care of ourselves, we not only look better, we feel better too. In my practice I take an integrative approach with the aim of addressing the totality of a patient's health and wellness goals -from the inside out.
What is your background?
I was born in Israel to parents from South America and at the age of eight we moved to New York City, where I was ultimately raised. I grew up speaking Spanish and also fluent in English; later on I learned French. I think having this early exposure to other cultures and languages ultimately helped give my practice its global mindset. It also shaped my overall integrative beauty and wellness philosophy, which borrows from many different traditions. 
Where did you receive your medical training? 
My medical training in the U.S. focused on both general and reconstructive surgery. I graduated from The Mount Sinai School of Medicine in New York City and did subsequent surgical training at Montefiore/ Albert Einstein Medical Center, where I trained in General Surgery, Plastic and Reconstructive Surgery, and Microsurgery. 
What would you say have been the  biggest changes in cosmetic surgery in  recent years? 
Thanks in part to the rise of minimally invasive procedures like injectable fillers, radiofrequency (RF) and other technology that help to lift and sculpt the face, procedures today have become safer, and there's now far less post.operative downtime for healing. As a result, we've seen cosmetic surgery become much more widely accepted, increasingly regarded as one of a set of tools – alongside clean beauty products, nutrition, exercise, spiritual practice, and others – that people can consider as part of an overall health and wellness plan that contributes to "aging consciously."
What does it mean to be a "holistic" 
As our ideas about wellness evolve, alternative medicines and treatments are becoming more widely available and accepted, and people are finally seeing the many ways health and  I believe in complementing the very best surgical techniques with treatment plans that include natural medications, homeopathy, and ancient healing practices like meditation, acupuncture, lymphatic drainage and massages. In doing so, I believe you can maximize healing, ease pain and discomfort, and enhance relaxation 
I also work with trusted practitioners— from ob/gyn's and general surgeons to holistic aestheticians, acupuncturists and nutritionists— to address the full spectrum of my patients' needs. Ultimately, my holistic approach is about empowering the individual to take control of their body patients to glow from the inside out. 
What services does your practice offer? 
I perform a range of aesthetic surgeries including eyelid rejuvenation, breast contouring, liposuction and the more comprehensive set of procedures has become one of my specialties. I also offer non-surgical, non-invasive procedures, like dermal fillers, injectables such as Botox and Sculptra, and treatments such as combined radiofrequencyand microneedling, a treatment for aging skin which improves fine lines, lifts the jowls and neck, and decreases the appearance of acne scarring by stimulating new collagen growth. 
But what really distinguishes my practice from many other traditional plastic surgeons is my "whole-body-beauty" approach to beauty and wellness, which is why I created the Tamy M. Faierman Holistic Spa and Wellness Center.  Here we foster personal transformation — combining the best of Eastern and Western medicine to advance self-discovery and well-being. We offer holistic facials, herbal teas and tinctures, clean beauty products, and integrate a range of healing practices from guided meditations in our beautiful meditation room, to acupuncture, to rejuvenating.What's your best beauty and wellness advice? I always teach my patients that our body, emotions, and mind are connected. So when it comes to beauty and wellness, strive to marry the three. Nutrition, exercise, and emotional well-being are parts of a healthy lifestyle. Only when we align the inner body with the outer body are we able to truly reconnect with ourselves. 
Dr. Faierman's office is located at 17130 Royal Palm Blvd., Suite 1, in the Windmill Professional Campus. Her office hours are Monday to Friday from 9:00 am to 4:00 pm. For more information about Dr. Faierman, please call at 954-322-2742 or visit her site at www.reshapeyourimage.com.