It's the return of the popsicle!!!!  As many of you know, I love cool summer treats and this recipe is loaded with tons of great health benefits.
This recipe came to me one morning as I was eating a quickweekday breakfast of Greek yogurt, fruit, granola, and a cup of coffee.
I have been brainstorming this new popsicle flavor since the weather began warming up. As I took the 5th or 6th bite of my Greek yogurt bowl, I began thinking…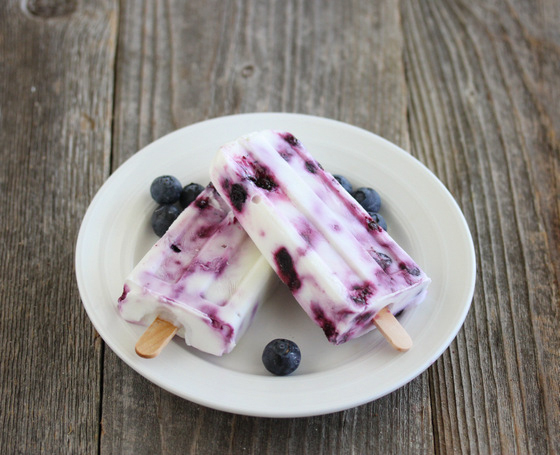 Plain Organic Greek Yogurt – Check. Organic Blueberries – Check. A frozen yogurt popsicle of sorts – Check. That was pretty much my thought process. Voila! A creamy yogurt popsicle filled with sweet blueberries.  The first ingredient is, you guessed it, fresh organic blueberries.  Simply blend the blueberries up into a juicy smoothie consistency. Just like this:
Guess what? You can use another fruit! I've made these popsicles with:
Strawberries
Raspberries
Cherries
Blackberries
Peaches, Kiwi or any other seasonal organic fruit!
To the blended blueberries, add a little liquid sweetener like raw, organic honey.  You don't need much; just a little something to sweeten up the tart berries AND tart yogurt. If you're using a sweeter fruit like dark sweet cherries, you can reduce the amount of honey. Just go by your preferred taste.
Finally add Organic Greek Yogurt as your last ingredient.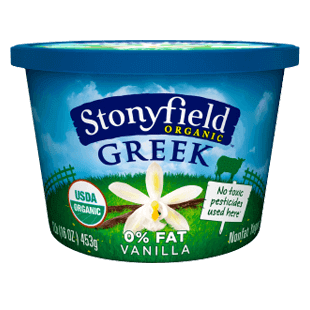 I like using 0% Plain Organic Greek yogurt, but a low fat or full fat variety works too! Adding a greek yogurt adds a little additional protein.
To create this tie-dye swirly look, mix the yogurt and blended blueberries together very lightly. Don't fully combine them. You want patches of white yogurt and patches of violet blueberry specks for prettiness.
Look at you with your alluring blue and white swirls!
Pour this mixture into your popsicle molds. Your work here is DONE.
Freeze, eat, obsess, repeat.